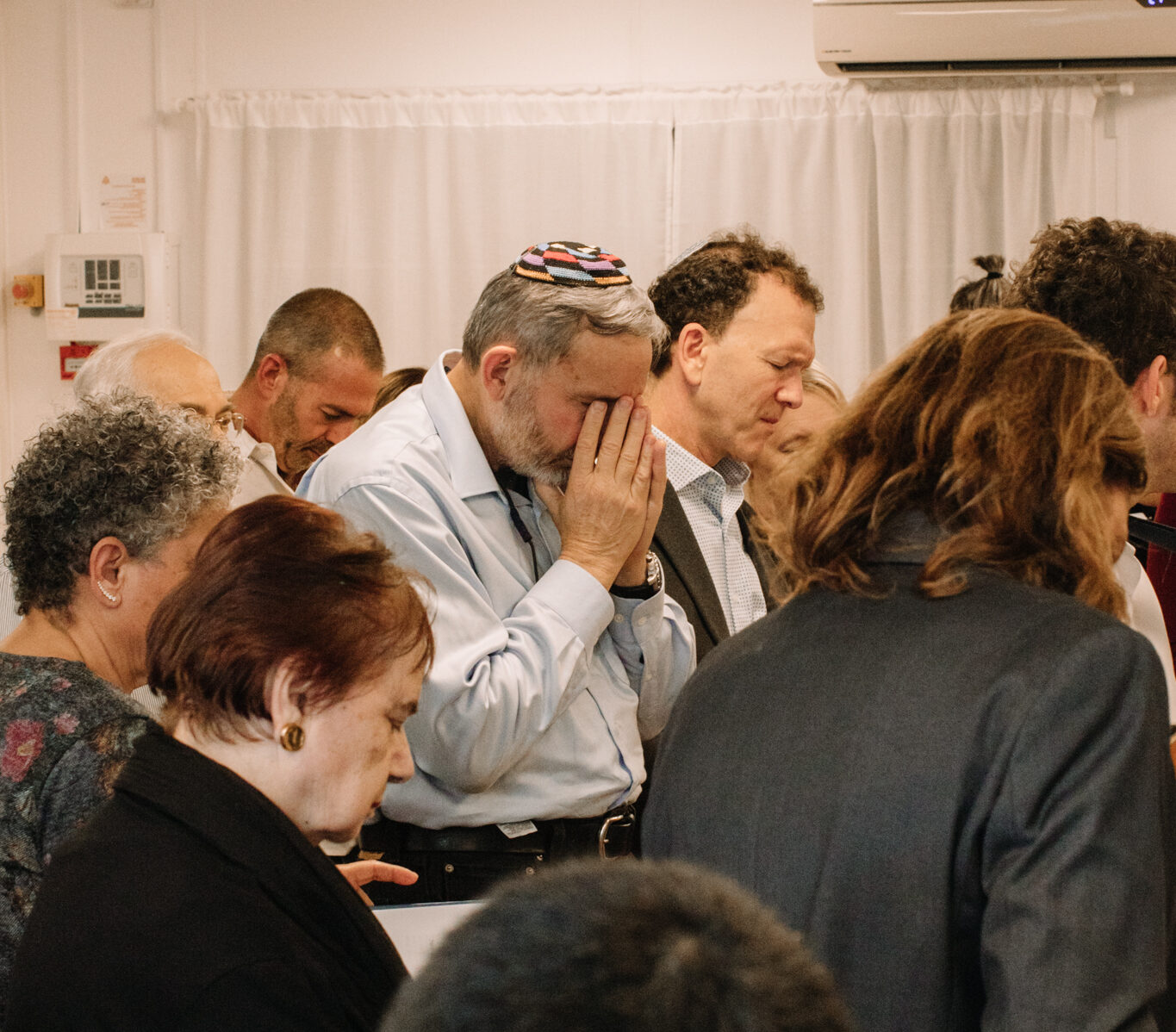 By Don Wade, Daily Memphian, October 9, 2023
Micah Greenstein answers the phone, and the weariness is audible in his voice.
"How are you doing?" is a dumb way to start the conversation in wake of recent events, and the Temple Israel Rabbi says, "I'm struggling. It's hard to sleep. It's hard to breathe."
Sarit Horwitz, Rabbi at Beth Sholom, says she was using neither her cellphone nor her computer last weekend. Simchat Torah, a Jewish holiday celebrating the Torah, was from Saturday at sundown to Sunday at sundown.
So she didn't know of last Saturday's deadly Hamas attack on Israel until her congregants told her. And then the telling never stopped.
"No conversation was spared from it," Horwitz said. "In service, we said a prayer for the State of Israel and all the innocent people there."
"I have dozens of friends and family members who live in Israel, and that's not overstating it — first cousins, second cousins …"
Greenstein, in fact, was supposed to leave last Sunday to lead a trip to Israel and would have been there right now. But after the Hamas rocket launches started, Ben Gurion International Airport near Tel Aviv was closed.
"There is not a home or apartment in Israel that hasn't been touched by this," Greenstein said. "Everybody has had someone killed or wounded or taken hostage.
"Everyone knows someone. If you're able-bodied and under 40, you've been called up from the reserves to defend the homeland.
"This is the most lethal attack on Jews since the Holocaust," he said. "That's a fact."
Not exactly the trip they had planned
The scale of the attack — more than 900 dead in Israel, more than 600 dead in Gaza, and Hamas militants holding at least 100 hostages — is why Sharon Masterson keeps getting the same text from friends and family members:
"You're living history."
Masterson, 76, is still in Israel on a trip with about 40 others from Memphis, including Father Dexter Noblefranca, pastor at Downtown's St. Patrick Catholic Church.
"We're holding up, trying to make it," Noblefranca told The Daily Memphian Monday afternoon. "We plan to leave Wednesday, no way we can go (Tuesday)."
Forty-three people — 37 of them from Memphis — are part of the traveling party and all are fine and accounted for, the father says.
They arrived Monday, Oct. 2, and for much of the week they were having just the trip that they hoped to have. They visited the Garden of Gethsemane where, according to the Bible's New Testament, Jesus was betrayed the night before he was crucified.
Then on Saturday, Oct. 7, the day Hamas attacked Israel, the group was visiting the Tomb of Lazarus, where the New Testament says Jesus raised Lazarus from the dead.
Noblefranca says last Saturday, they heard what sounded like far-away fireworks: "Boom, boom, boom."
Masterson was waiting in line to descend into the Tomb of Lazarus when in the distant sky, she saw smoke; she later learned she had seen an Israeli missile intercepting a Hamas missile.
"It has been surreal," she told The Daily Memphian. "But it's getting more real."
Much precedence
The history they're all living is an oft-repeated story.
"It's a geopolitical, social and religious conflict," Noblefranca said. "There will always be conflict here in the Holy Land."
Last Saturday's attack came 50 years after the Yom Kippur War in 1973, when Egypt and Syria launched a surprise attack on the Jewish holiday. The war lasted 19 days.
There have been other eruptions of violence, including the 2021 conflict that reportedly lasted for 11 days, and killed more than 250 people in Gaza and left 11 dead in Israel.
Pete Gathje, a professor of Christian ethics at Memphis Theological Seminary, will discuss with students the latest Hamas-Israel bloodshed in class and examine the historical context.
He says the Hamas attack on Israel violates any definition of "just" war.
"Absolutely, there is no justification for what Hamas is doing. Zero," Gathje said. "It's horrible. At the same time, it didn't just come out of nowhere. Israel has neglected its responsibility of creating a more just situation on the West Bank and the Gaza Strip. Enduring injustice leads to violence on both sides."
While Gathje says he doesn't claim to be a foreign policy expert, he finds it difficult to understand the Hamas strategy, even when accounting for the militant group's willingness to use any means toward its end.
"They can't defeat Israel," he said. "That's ludicrous. Israel is not going anywhere. It's like a temper tantrum, a deadly temper tantrum."
Feelings of safety shattered
Greenstein, 60, says the trip they were supposed to make to Israel was "long planned," adding that he has led 23 previous trips and also lived in Israel.
"A part of me wishes I was there, just to lend support to our sister congregation just outside of Tel Aviv," he said.
Greenstein lived in Israel while attending high school and also when a few years older. He does not remember being anxious.
"You don't think you're unsafe," he said.
Horwitz, 38, recalled that at age 18 she worked for a year at a religious community in the south near Gaza.
"It was 5 kilometers from Gaza," she said. "You could walk there. This was 20 years ago (and) the situation in Gaza was really different. We never felt afraid. We never heard sirens."
In fact, she makes the point that everyday life in Israel is usually just like that.
"In normal times, despite the things we hear on the news, there's an incredible sense of security and belonging, and a safe feeling."
That, of course, is not the prevailing feeling now.
"We Jews, all over the world, are a family in solidarity in the face of this barbaric, brutal attack," she said, adding that it's difficult to even quantify how much it helps when non-Jews here show support.
"It's incredibly meaningful to hear from people that are not Jewish say, 'I'm thinking of you.' "
Said Greenstein: "I have a person in my congregation whose sister and father are trapped in Israel in the King David Hotel. They can't get out until maybe Friday."
Greenstein says Temple Israel had a vigil planned for Monday night, not to come and talk politics or "make speeches," but rather as a way to support one another in faith.
"I'm hearing that people are feeling shattered, scared. It's a time to have song and prayer together, just come together and pray."
'Not a foreign place'
Horwitz also has been staying in touch with a handful of people from her congregation that are in Israel now.
"Everyone is physically safe," she said. "People are emotionally reeling. They've been running to the shelters. In Israel, most buildings have (bomb) shelters."
Masterson had gone to Israel for rest and peace of mind, to get away from the crime crisis plaguing Memphis.
"I'm a news hound," said Masterson, who had worked in communications at St. Benedict at Auburndale High School in Cordova. "I read everything. I thought, 'I'll have a respite for 10 days.' "
It didn't go quite like that, but after her traveling party left Jerusalem they were able to enjoy an afternoon of sailing Monday on the Sea of Galilee far from the "booms" and white smoke in the sky.
"It was beautiful," Father Noblefranca said. "They raised our American flag. We stood up and sang our Star-Spangled Banner."
Yet even there, they heard the worries of the people — how the conflict would bring tourism to a halt.
"They say, 'Father, we're not going to have jobs for six months.' I have compassion for them."
But for Jews in Memphis, who are roughly 6,600 miles away from what Greenstein calls the "existential threat to your existence," it is difficult to worry about the next layer of hardships.
The violence and bloodshed continue. History suggests the killing won't end in the next few hours.
And for Jews, Horwitz adds, a trip to Israel is not the same as for non-Jews, not just the trip of a lifetime, but a trip that helps define a life.
"When we go, it's not a foreign place," she said. "It's less a feeling of being a tourist, and more a feeling of being home, especially if they've never been there before."
Horwitz led a group to Israel for a 10-day trip not long before the pandemic.
"The entire country was celebrating Hanukkah," she recalled. "On every light post, as we drove from the airport to Jerusalem, there was a flag with the Menorah and it said in Hebrew, 'Happy Hanukkah.'
"One of the men, in his 50s, had never been to Israel. Lived in Memphis his entire life. He started crying. He felt that immediate sense of 'I'm home.' "
And now home is under siege.
Again.
"It's still unclear where this is going," Greenstein said.
The only certainty: The journey won't be easy because it never has been easy.
"There's an old Jewish expression," Greenstein said. "Jews don't ask for miracles. We depend on them."