Temple Israel Museum
The Temple Israel Museum houses The Herta and Dr. Justin H. Adler Judaica Collection, which reflects Jewish life and culture throughout the world. The Museum's extensive collection of Jewish art and ritual objects illustrates the religious and creative expressions of the Jewish people through the centuries as well as an understanding of the Jewish experience and the Jewish way of life.
Hours of Operation:
Tuesday – Friday: By Appointment Only
First Friday of the Month: 5-6 PM
---
What's On
FLIGHT
Opening Yom Kippur Day 2023
Open to the public Tuesday – Friday, by appointment only, through January 2024

Alexander Calder
Untitled, Paris, 1971, lithograph
(from the Flight Portfolio, International Rescue Committee, New York, pub., 1971)
During the summer of 1935, two years after Adolph Hitler became chancellor of Germany, Varian Fry, a young New York journalist, traveled to Berlin where he witnessed the public cruelty against the Jews. Providing the American news media with one of the earliest accounts of Nazi cruelties, Fry reported that the marauding crowds chanted "the best Jew is a dead Jew."
What Fry saw had scarred his memory. After returning to the U.S., he decided it would take more than journalism to help the Jews. Fry became a founding member of the Emergency Rescue Committee, a group that strongly opposed the U.S. Immigration Act of 1924, which restricted the number of European immigrants into the U.S. Through the committee's efforts, Fry, at 32, traveled to Marseilles, France in the summer of 1940. With $3,000 strapped to his leg, he found himself enveloped in a black-market world of forged passports and secret escape routes.
For 13 months, Fry kept up his rescue efforts helping more than 2,000 people escape the Holocaust, many of them artists and intellectuals including Marc Chagall, Joan Miro, Hannah Arendt, and Jacques Lipchitz. Nearly 25 years later, as a fundraiser to benefit the humanitarian work of the International Rescue Committee and at the behest of Fry, some of the great artists aided by Fry created a portfolio of original art prints entitled, Flight.
Those signed lithographs are on display in the Temple Israel Museum as part of a special exhibit. Flight is on loan from Joanna and Josh Lipman and will be on display, Tuesday – Friday, 10 a.m.- 4 p.m. through January 2024.
In addition to their artistic beauty, these works beg a question for all of us. In a time of crisis and faced with the knowledge of injustice, what would you do?
The Temple Israel Museum is grateful to Joanna and Josh Lipman for lending this exhibit, which also is made possible in part by a generous donation from the Robert T. Goldsmith Fund.
---
The Temple Israel Archives celebrates and commemorates the Jewish experience and universal themes of diversity and human dignity. This is accomplished by collecting, preserving, interpreting, and teaching Jewish values, culture, and history, particularly those associated with Temple Israel and the experience of Jews in Memphis. Learn more here.
---
Previous Exhibits
Righteous Among Men: Rabbi James A. Wax, A Life Dedicated to Social Justice
"Temple Israel Museum Draws Visitors from Around the World" | Jewish Scene Magazine
5 Star Stories: Temple Israel | Action News 5 segment on Righteous Among Men: Rabbi James A. Wax, A Life Dedicated to Social Justice
"'A hidden treasure': Temple Israel Museum brings Jewish history to life" | The Daily Memphian
---
The Art of the Yad and Surviving Remnants – Photography by Elizabeth Collings of Damaged Crimean Torah Scrolls
September 29 – November 27, 2016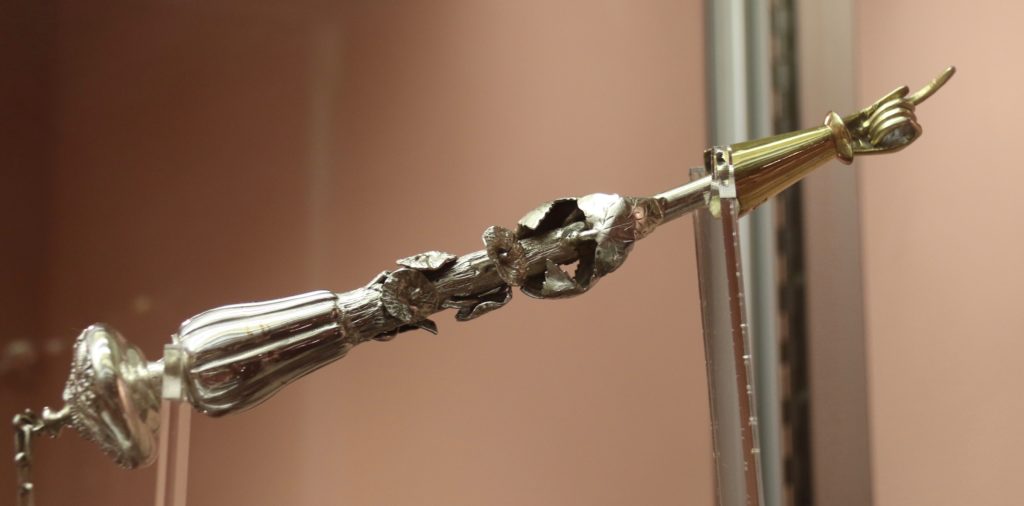 The Art of the Yad, a remarkable collection of 100 antique and contemporary yads – literally 'hand' in English – is now on display at the Temple Israel Museum. The exhibit features an amazing array of Torah pointers on loan from the Barr Foundation's collection of yads that Jews have used throughout history to guide them across the words of the Torah. Created by artists from different ages and cultures and made of diverse materials, including wood, precious metals, jewels, ceramics, and paper, this collection of yads transcends religious symbolism and appeals to all who appreciate the beauty and craftsmanship of fine art. The yads are enhanced with an explanation. Reading where they come from, their inscriptions of personal use, or how old or new they are, subtly reminds us of the profound effect that the Diaspora had on Jewish life. For many years, these yads were carefully and painstakingly collected from all corners of the world. The geographic and stylistic range of the Barr Foundation's collection shows the diversity and expressive potential of this simple but important ceremonial object, which is exclusively Jewish in origin and use.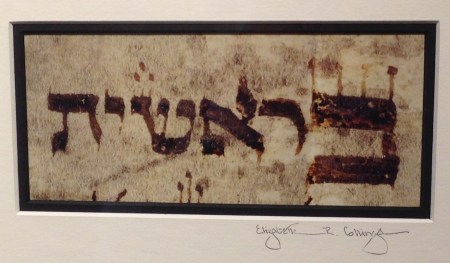 Accompanying The Art of the Yad is Surviving Remnants – Photography by Elizabeth Collings of Damaged Crimean Torah Scrolls. This photographic exhibit is a silent but powerful record of the remains of Torahs from the city of Simferopol on the Crimean Peninsula – an area now at the heart of a dispute between Russia and the Ukraine. For centuries, Simferopol was the center of Jewish life in the Crimea before the Nazis took over the area and systematically killed 22,000 of the area's 23,000 Jewish inhabitants. Although the Torahs survived the Holocaust, they were hidden in a coal bin after World War II to avoid seizure by the Soviets. The Torahs deteriorated over time. In 1990, Dr. Joe and Cathy Thaler of Portland, Oregon, returned from a visit to Simferopol, bringing home fragments of these Torahs that were given to them by a man who had been safeguarding them for years. Because the Torahs could not be repaired, they were painstakingly documented, catalogued, and photographed by Collings. Her work, which she donated to the Oregon Jewish Museum and Center for Holocaust Education, preserves the sacred images of these Torah fragments which, in accordance with Jewish tradition, are buried in the Congregation Beth Israel cemetery in Portland.
The Temple Israel Museum gratefully acknowledges the Barr Foundation of Virginia and the Oregon Jewish Museum and Center for Holocaust Education for their generous loan of these exhibits.
The exhibits are made possible by a generous grant from the Robert T. Goldsmith Fund.
---
Fabric of Survival: The Art of Esther Nisenthal Krinitz
March 16 – May 27, 2016
When Esther Nisenthal Krinitz was 15 years old in 1942, the Nazis ordered the Jews in her small Polish village to report to the train station for a journey they knew would take them to their deaths. But Esther was defiant, and with her mother's blessing, she and her younger sister adopted new identities as Polish Catholic girls and found refuge in a village where people were willing to take them in without papers. Esther and her sister were the only members of their family to survive the Holocaust.
It's a story that has been told many times by many people from many places but never before through the eye of a needle.
By the time she was 50 and living in Brooklyn, New York, Krinitz was determined to bring to life her childhood experiences in a way that her daughters could see. Rather than leave her memories in print, she tells her story in vibrant detail through the use of needle and thread.
Employing different techniques of texture, from stitching to crocheting to embroidery, Krinitz's self-taught, quilt-like panels bring her compelling story to life once again in memorable detail Krinitz's fabric narrative begins with nostalgic memories of her childhood laced with scenes of village life and her family's Jewish rituals. Even though the fabric images remain bright, her images turn dark when the Nazis march into her life.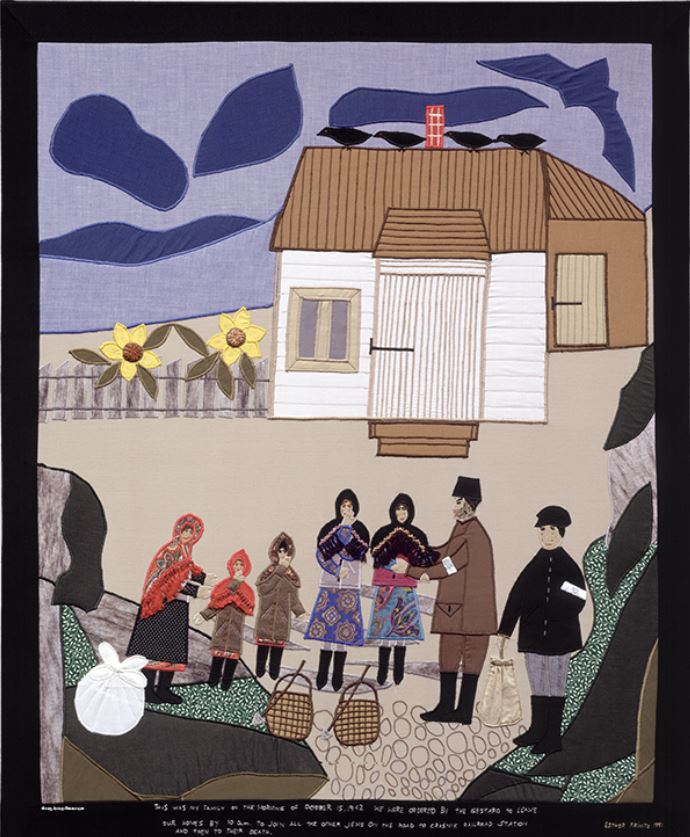 She takes us through her wartime odyssey, from the brutality of the Nazis to her nights of fear hiding in the woods and then, finally, to her immigration to America.
Among the most striking images is Krinitz's stitched image titled "Maidanek," which shows the concentration camp where she went after liberation in search of signs of her family. She found none, but what she did see were rows of cabbages growing in fields fertilized with human ashes, and she searched through piles of shoes looking for some remnant of her family. Her daughter, Bernice Steinhardt, said: "They threw away the people and left the shoes".
Fabric of Survival was created by Krinitz's daughters, Bernice Steinhardt and Helene McQuade, through their non-profit, educational, and charitable organization, Art & Remembrance. Their mission is to use art and personal narrative to recognize individual courage and resilience, and to foster understanding and compassion for those who experience injustice. Fabric of Survival: The Art of Esther Nisenthal Krinitz, a collection of 36 fabric panels created and hand-stitched by Krinitz, was on display at the Temple Israel Museum from March 16 – May 13, 2016. Go to artandremembrance.org for additional details.
---
Chasing Dreams: Baseball and Becoming American
September 23-November 22, 2015
Chasing Dreams: Baseball and Becoming American, a memorable exhibit featuring America's national pastime and the central role it played in the lives of American minorities, was on display at the Temple Israel Museum from Sept. 23 – Nov. 22, 2015. Created by the National Museum of American Jewish History in Philadelphia, the exhibit focused on how baseball has served as a metaphor for America, the land of promise and opportunity. But for some of America's minority communities – Jews, African-Americans, Italians, Dominicans, Puerto Ricans, or Japanese – the sport has served as a path to learning and understanding American values.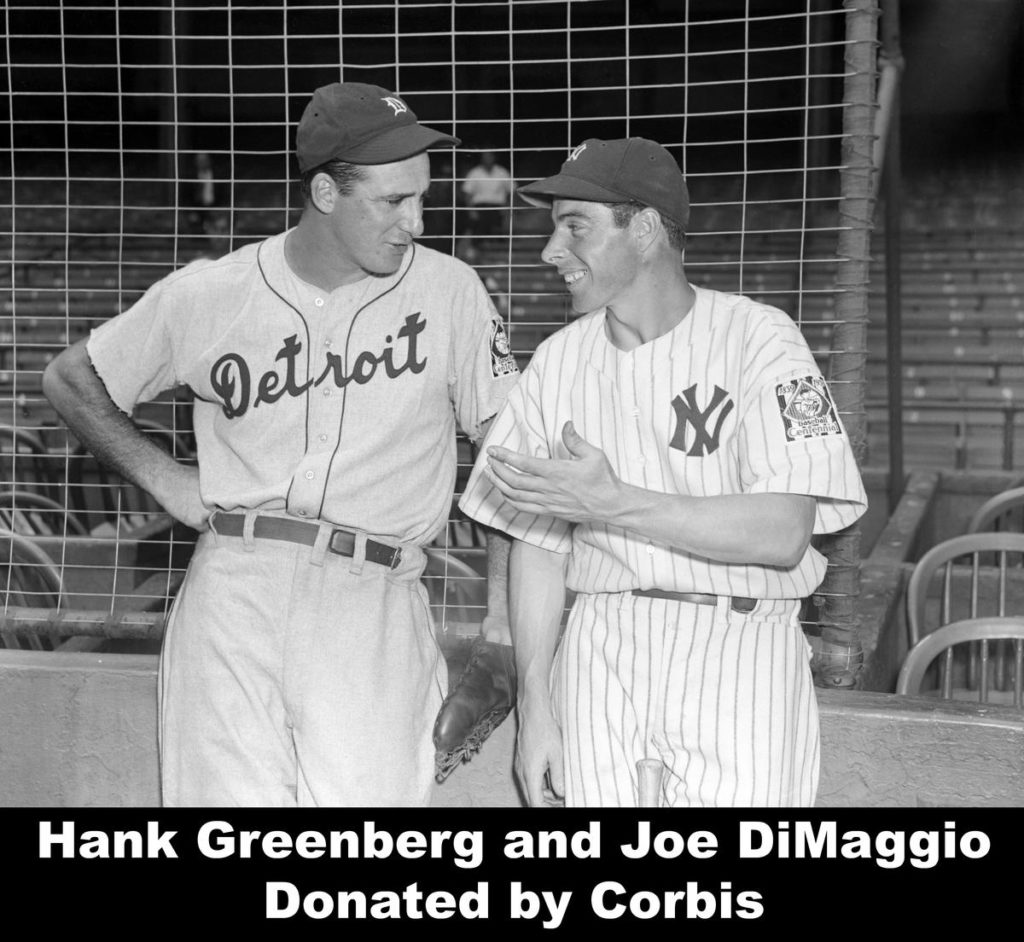 While baseball represents a shared American identity, it also at times highlights our differences. The exhibit celebrates well-known Jewish heroes, such as Hank Greenberg and Sandy Koufax, and iconic players, such as Jackie Robinson, Joe DiMaggio, and Ichiro Suzuki.
Chasing Dreams: Baseball and Becoming American is organized by the National Museum of American Jewish History, Philadelphia. Major support for the exhibit has been provided by the National Endowment for the Humanities, Major League Baseball, the Annette M. and Theodore N. Lerner Family Foundation/Washington Nationals, the Marc and Diane Spilker Foundation, Leon Wagner, Harriet and Larry Weiss, Judy and Fred Wilpon/NY Mets, and Sam Wisnia. Additional support is provided by the Oakland Athletics, John Fisher and Lew Wolff, Cozen O'Connor, Gary Goldring, Steve and Myrna Greenberg, Macy's, Michael G. Rubin, and Susie and Robert Zeff, the Robert T. Goldsmith Fund, and other dedicated fans.
---
Superman: The Jewish Roots of America's Super Hero
September 22, 2014-February 28, 2015
In 1938, two Jewish kids from Cleveland, Ohio, created Superman, the world's most-enduring superhero. In doing so, Jerry Siegel and Joe Shuster wrapped their comic book character in a dual identity and concealed the signs of Jewish culture that they embedded in their Mensch of Steel. Today superhero scholars and collectors continue to ask: What did Siegeland Shuster have in mind when they gave birth to Superman 76 years ago? Who at that time knew that Superman's roots were Jewish? Yet clues to Superman's Jewish origins are numerous. As the story goes, Superman was born on the planet Krypton. There his name was Kal-El, which in Hebrew means "voice of God." Knowing they had only moments before Krypton was to explode, Kal-El's doomed parents put their special child in a spaceship that propelled him to the safety of Earth. The story parallels that of Moses, whose mother, desperate to save her infant son from the Pharoah's death decree, placed him in a reed basket and floated him down the Nile. Kal-El and Moses were rescued by non-Jews – Moses by Pharoah's daughter and Kal-El by a Kansas farming couple named Kent. For Siegel and Shuster, Kal-El's escape to Earth is the story of the Jews and their exodus from Egypt. Temple Israel member Eddy Zeno has built a broad and meaningful collection of Superman memorabilia and artifacts that explore the influence of the Jewish experience on the evolution of Superman. Superman: The Jewish Roots of America's Super Hero, displays part of Eddy Zeno's collection, which invites the viewer to consider the Jewish subtexts at work. Superman: The Jewish Roots of America's Super Hero can be viewed in the Temple Israel Museum from September 22-December 31, 2014.
---
Fred Kesselman Photography: Images of Israel and Eastern Europe
September 3 – December 18, 2013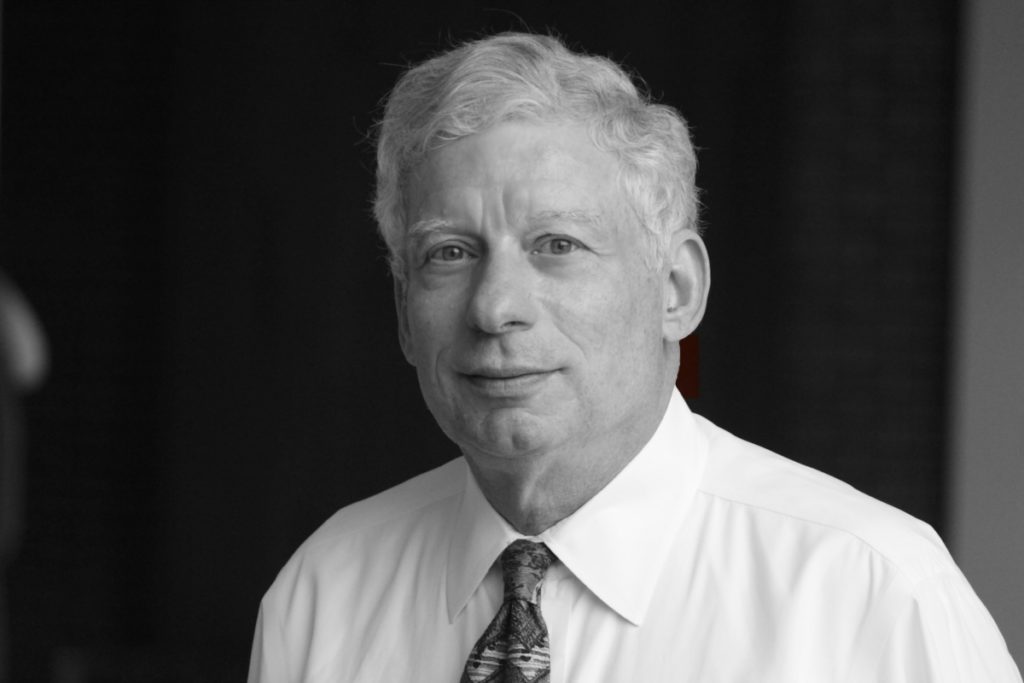 Fred Kesselman was a devoted husband, father, and businessman, and a widely admired member of Temple Israel who served as interim executive director of our congregation until shortly before his death in November of 2012. Less known about Fred's life was his passion for photography. It is with appreciation of his photographic skills and with deep admiration for his memory that the Temple Israel Museum offered a unique exhibit of Fred's high-quality work. Fred had an appreciation for the monochromatic medium of photography and an innate understanding of photographic composition. This exhibit of 24 mostly black-and-white images focused on the territories in Israel and Eastern Europe that Fred explored with his camera. Interacting with architecture and people, many of these snapshots focused on Israeli subjects whose actions are frozen forever at a moment in time. Others captured the all-too-familiar scenes of Auschwitz and the Warsaw Ghetto, which continue to beg us never to forget the horrors of the Holocaust. The Fred Kesselman Exhibit of Photography: Images of Israel and Eastern Europe was made possible by a generous donation from the Robert T. Goldsmith Fund.
---
The Tiffany Menorah
October 12 – January 13, 2013
The Tiffany Menorah on display outside of the main sanctuary as part of the Temple Israel Museum's collection currently is on loan to the Memphis Brooks Museum of Art where it is featured in the Brooks' new special exhibits, The Taste for Tiffany and The Brilliance of Tiffany: Lamps from the Neustadt Collection. The name Tiffany is synonymous with luxury, sophistication, and exquisite taste. Even today, it calls to mind the finest glassware, silver, desk sets, lamps, and windows. These exhibitions are devoted to objects made, or inspired by, Tiffany & Company and Tiffany Studios. They include magnificent Tiffany lamps from the Neustadt Collection in New York, as well as objects from both the museum's holdings and from local collectors, including the Temple Israel Museum. The menorah will be on display at the Brooks from October 12 through January 13, 2013.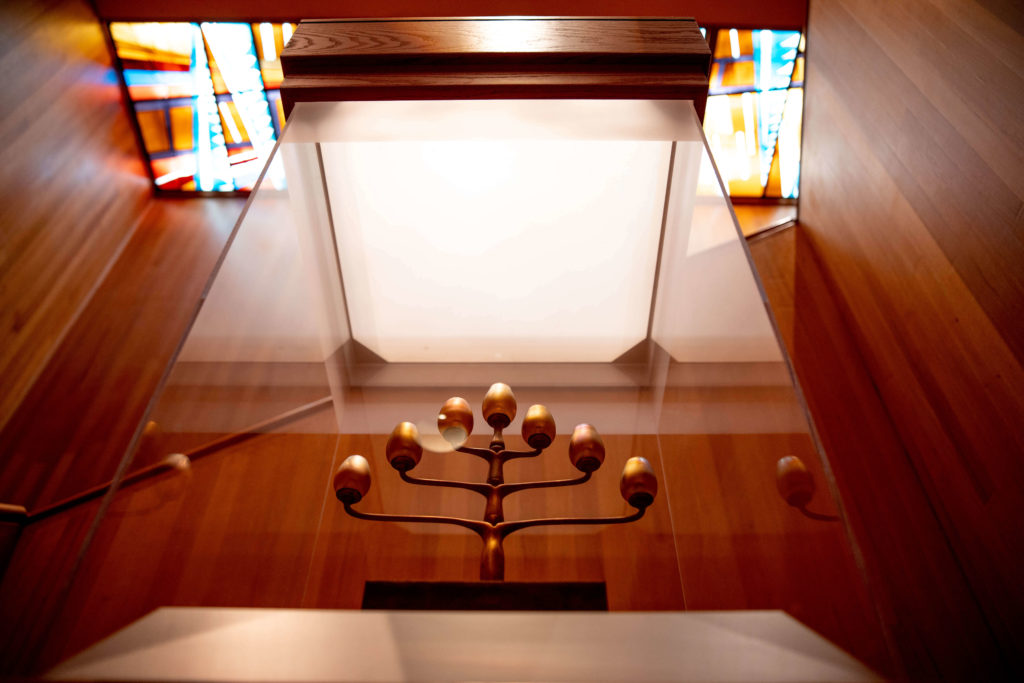 ---
The Mikvah Project
October 2, 2012 – December 2012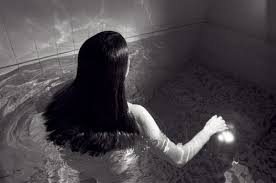 Every religious tradition uses water to denote change and transformation. In Jewish tradition, water is part of our sacred narrative, such as when Hebrews traveled through the waters of the Sea of Reeds as they left Egypt, marking their transformation from a tribe of slaves into a free people. Mikveh is the Jewish ritual that symbolically enacts this kind of profound change for individuals – for converts to Judaism, for brides, and for women observing the practice of Niddah, a monthly immersion following menstruation. The ancient uses of Mikveh have been passed down from mother to daughter privately, even secretly. Today, it is a many-faceted silent celebration used for other purposes. For example: by men prior to Shabbat and the holidays, by women in the ninth month of pregnancy, for individuals prior to reading Torah for the first time, before or after surgery, on the occasion of becoming a grandparent, reaching a milestone age, and the list goes on. The Mikveh ritual celebrates moments of joy, healing after times of sorrow or illness, and the commemoration of transitions and changes. This exhibit focuses on the many-faceted silent celebration of womanhood observed by a broad spectrum of Jewish women.
The Mikvah Project was on exhibit at The Temple Israel Museum from October 2, 2012 – December 2012, and was sponsored by a generous contribution from the Robert T. Goldsmith Fund and an ArtsMemphis Arts Education and Outreach Grant. (note: while the name in the exhibit is spelled "Mikvah," as is often the case in Hebrew transliterations, there are different spellings of words, and Temple uses "Mikveh.")
---
Bagels & Grits: Exploring Jewish Life in the Deep South
May 2012
The exhibit Bagels & Grits: Exploring Jewish Life in the Deep South is now open for viewing. Bagels & Grits is an artistically produced photographic exhibit that explores the once-vibrant Jewish life in Arkansas, Louisiana, Alabama, and Mississippi. The exhibit focuses on Jewish life in the South, which continues to fade as the younger Jewish generation shifts from small southern towns to major metropolitan centers, leaving behind the memories of an older generation. Some exhibit visitors will see faces or places they immediately recognize in these images, while others will discover another world once known mostly to people of the Deep South, where many Jews settled to escape oppression, seek opportunity, and to preserve our heritage.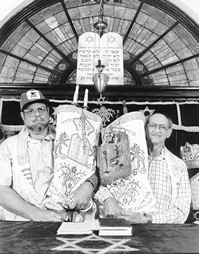 Bagels & Grits, was on exhibit at the Temple Israel Museum through May 31, 2012, and was made possible by the generosity of Robin and Billy Orgel and was created by the Museum of the Southern Jewish Experience, a project of the Goldring/Woldenberg Institute of Southern Jewish Life.
---
Paper Tefillah
January 2012
Paper Tefillah is a remarkable series of papercuts by Isaac Brynjegard-Bialik. The series is an artistic interpretation of the elements of a contemporary American progressive Jewish prayer service, with 16 papercuts representing major prayers. It was on display through the end of January 2012.
---
Letters to Sala: A Young Woman's Life in Nazi Labor Camps
September 2011
In 1991, as 67-year-old Sala Garncarz Kirschner prepared herself for triple bypass surgery, she opened a painful chapter of her past. For nearly five decades, she had shielded her three children from her Holocaust years, never talking about her Polish-Jewish family's experiences during World War II.
One summer day that year, she approached her daughter, Ann, carrying a red cardboard box that had once contained a "Spill and Spell" game. She held it out, saying, "You should have this". Within the box was a small, worn brown leather portfolio, stuffed with letters, postcards, and scraps of paper—an amazing array of Polish, German, and Yiddish writing, some of it barely legible, tiny and cramped, some of it beautiful calligraphy. The postcards were covered with stamp-size Hitlers and thick "Z" stamps. "These are my letters from the war," Sala told her daughter.
That afternoon, Sala began to fill in the missing pieces of her history. She was taken from home when she was 16 and survived five years in seven different Nazi forced labor camps. Saving the letters became inextricably linked with saving her life. The letters were not mere pieces of paper: they were the people she loved, friends and family waiting for her return. She risked her life to preserve the letters, hiding them during line-ups, handing them off to friends, throwing them under a building, even burying them, but always managing somehow to take them with her from camp to camp.
Liberated in 1945, Sala came to the United States as a war bride, and she hid her papers in a closet. Five years of her life were also hidden until the day she revealed the existence of more than 300 letters, photographs, and documents.
Sala's story is, above all, a story of life and one young woman's way of seeing beyond years of horror. From her letters, we learn about friendship and love, Jewish life in occupied Poland, Nazi labor camps, the intensely human need to rebuild life after the catastrophe of war, and the ability of words to give and sustain life.
–Jill Vexler, Ph.D., Guest Curator;
Ann Kirschner, Ph.D., Consultant to Letters to Sala;
Debórah Dwork, Ph.D., Robert Jan van Pelt, Ph. D.,
Holocaust Historians, Consultants to Letters to Sala
Letters to Sala: A Young Woman's Life in Nazi Labor Camps, which was sponsored by the Robert T. Goldsmith Museum Fund, was on display in the Temple Israel Museum from Sept. 6-Oct. 30, 2011.
---
Best of the Show
June 2011
Many of us have antiques in our homes that have been passed down from generation to generation. None are as cherished as Jewish ritual objects, or Judaica, used by generations of Jews before us and which helped to keep our Jewish way of life alive. The Temple Israel Museum's newly installed special exhibit, Best of the Show, features those pieces of Judaica appraised as 'most valuable' by one of the nation's leading appraisers of Judaica during the Museum's Judaica Roadshow late last year when more than 60 people brought more than 100 pieces of Judaica to be identified and appraised. While the Judaica in this exhibit was deemed Best of the Show, all Judaica is valuable for its deep personal and religious meaning. The Temple Israel Museum is grateful to everyone who participated in the first Judaica Roadshow and especially for the generosity of those whose Judaica is on display so that others may enjoy these pieces as well.
---
Judaica Roadshow
October 2010
The Temple Museum was proud to host the Judaica Roadshow with Jonathan Greenstein, one of the nation's leading appraisers of Judaica, on October 31, 2010.
---
Flight: Chagall, Miro and the Plight of Refugees
March 22-August 22, 2010
This stunning exhibition on loan from Josh and Joanna Lipman featured twelve works by 20th Century masters representing the struggle of refugees and their search for freedom. This series was organized by the International Rescue Committee, which was established in 1933 to aid European refugees escaping the Nazis. Several of the artists represented are of Jewish heritage and were directly helped by the IRC.