Keeping You Connected and Informed
---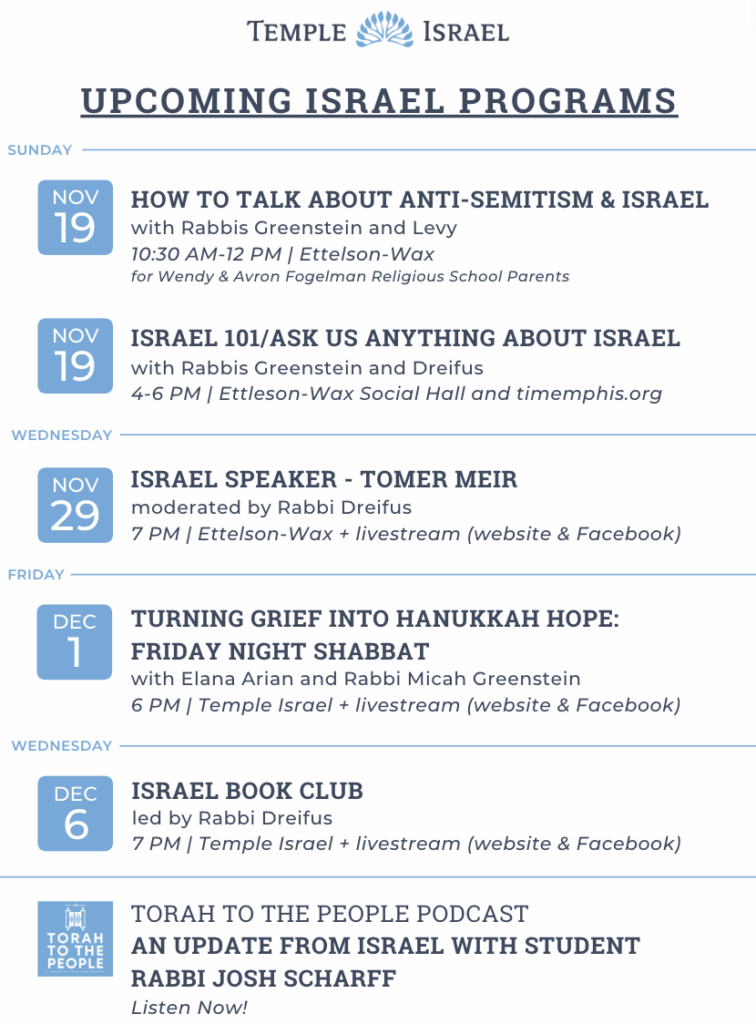 ---
Past Israel Events/Recordings
---
Educational Resources
Wish that you knew more about Israel and its history? Hungry for context on Israel's current war? Join our new Israel Book Club led by Rabbi Jeff Dreifus. Our first book is Israel: A Concise History of a Nation Reborn by Daniel Gordis. We will meet to discuss and learn together on Wednesday, December 6th, from 7-8:30 pm at Temple Israel + livestream.
---
Donation Links
Memphis Jewish Federation: The Jewish Federation has put together an emergency fund to collect and distribute funds to organizations on the ground providing medical care, emergency services, evacuation support, transport, and housing. 100% of your donation goes directly to key partners in Israel.
Leket Israel (Israeli National Food Bank)
Supplying 10,000 hot meals a day (rescued and purchased) to a range of people at risk, including evacuees from Sderot and Ofakim living in hostels in the Arava desert. Cost per meal: $6.25.
Purchasing $30,000 in weekly supplies of baby formula and diapers for 1,000 infants relocated to Eilat. Cost per week per infant: $30.
Distributing 1,000 dried food packages a day to evacuees including from Kibbutz Ein H'Slosha and Sderot, now residing in Kibbutz Gaash. Cost per package: $25.
Directing 500 dedicated volunteers to assist dozens of farmers in the harvest of their crops and supporting farmers in crisis with direct financial aid— a monthly allocation of $650/family.
Supplying restaurants and caterers preparing meals for evacuees with free-of-charge produce.
Providing 2,000 displaced families with a renewable weekly debit card for the purchase of basic supplies: Cost per card per week: $65.
In addition to its regular 250,000 food recipients, Leket Israel is now providing significant emergency humanitarian aid to those still living under rocket attack and evacuees from both the North and South residing in hotels and hostels. The war has dramatically affected Leket Israel's ability to rescue food from the catering and agricultural sectors, and consequently, the organization is now purchasing food at reduced rates.
The New Israel Fund Emergency Safety Net: Support our ongoing emergency efforts to meet this devastating moment, currently they include:
Humanitarian aid and basic needs
Safeguarding human and civil rights
Bolstering Jewish-Arab relations
Providing an alternative vision for Israel's future
Solidarity for Survivors: This initiative was built by family friends of mine. This website allows to donate per Kibbutz or town, to all towns that have been affected on October 7th. Donations go directly towards
temporary lodging for displaced families, clothing, security cameras, and more.
The Daniel Centers for Progressive Judaism: Help support our fellow Reform organization in Israel who has transformed its guesthouse, Mishkenot Ruth Daniel, into a home for displaced residents of Sderot as well as a haven for soldiers to recharge for a few hours before returning to the front.
Achim L'Neshek – Brothers and Sisters in Arms: An organization formed by veteran and IDF reservists to protest the proposed judicial overhaul in Israel, Achim L'neshek quickly became an organization and logistics hub to provide materials for folks displaced from the conflict zones.
Hostage Families Forum: Donations are used to advance all necessary efforts to raise awareness, create campaigns in Israel and abroad, and work towards bringing the abducted and the missing back home in a speedy manner.
JGive – "Passing Forward": A campaign set up by our community's 2022 Shlicha, Noa Lavyud, "Passing Forward" collects and uses funds for essential supplies and food, for soldiers and families in the South.