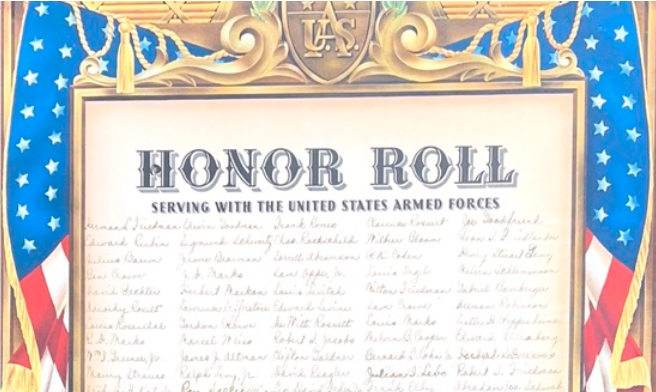 Throughout its rich 169-year history, Temple Israel has been home to countless individuals who have served honorably in the United States military. As we approach Memorial Day, a time to remember and honor those who made the ultimate sacrifice, the Temple Israel Archives is embarking on a meaningful project. We are working towards creating a comprehensive list of all the veterans buried in our cemetery, spanning from the founding of our cemetery in the 1850s to the present day.
A Legacy of Service
The legacy of military service at Temple Israel is deeply ingrained in our community's history. During World War I, a remarkable 131 young men out of a total membership of 450 families voluntarily joined or were drafted into service. The sense of solidarity and support was evident as Temple published lists with their contact information, enabling congregants to correspond with and uplift their spirits while overseas. In World War II, an astounding 400 Temple members served in the Armed Services, contributing their skills and dedication to the cause. Fortunately, the majority of these brave individuals went on to lead rich lives in Memphis and found their final resting place in our sacred cemetery.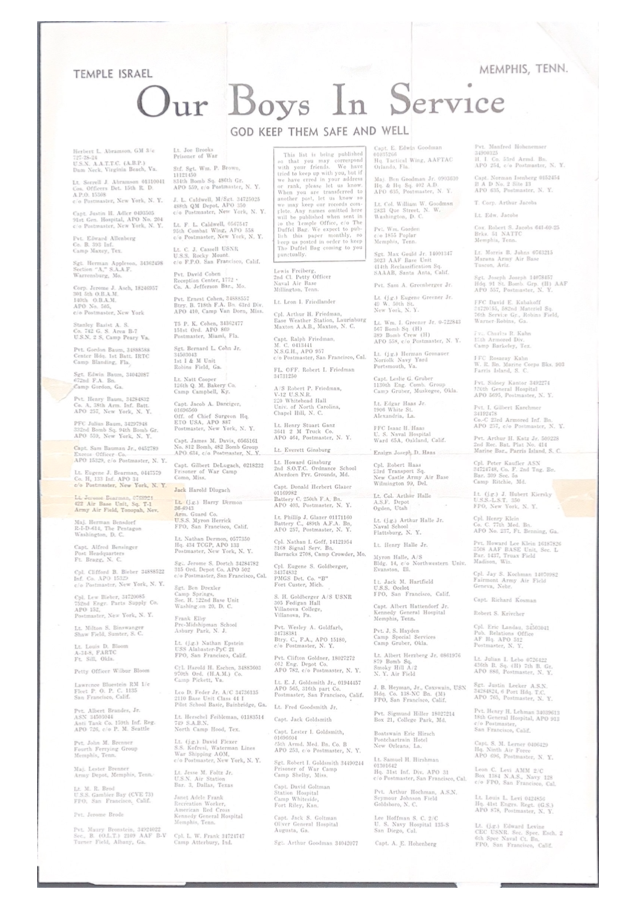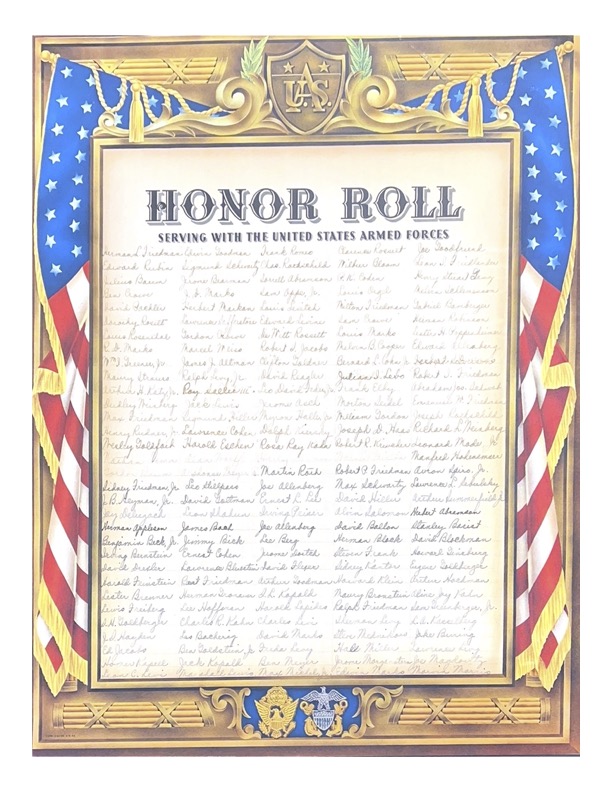 Preserving Our History
The Temple Israel Archives treasure the stories and contributions of our veterans. To ensure their memory lives on, we have diligently begun the process of compiling a comprehensive list of all the veterans buried in our cemetery. We have started with valuable materials from our archive, including the mailing address list from WWII and lists from the Jewish Welfare Board. However, we now turn to our congregation for their invaluable assistance in completing this significant project.
Your Help is Needed
We invite you to visit this link to access our current list of veterans buried in our cemetery. As you peruse the names, we kindly ask for your assistance in identifying any family members or fellow congregants who were veterans but are not included on our burial list. We are committed to honoring all those who served, whether during times of peace or wartime, and whether stationed stateside or overseas. By joining forces and sharing your knowledge, we can ensure that no individual's contribution is overlooked.
To help us expand and enrich our list, please reach out to Jennifer Kollath, our dedicated archivist, at tiarchives@timemphis.org. Your contribution, no matter how small, will make a significant impact in preserving the memory and honoring the service of our veterans. Together, we can weave a comprehensive tapestry of Temple Israel's military heritage and ensure that future generations understand the sacrifices made by these brave individuals.
As Memorial Day approaches, we recognize the importance of honoring and preserving the memory of our veterans. At Temple Israel, we strive to connect the past with the present, and this project serves as a testament to the dedication and sacrifices of our community members. We extend our gratitude to all who have served.
---
There is always something going on at Temple Israel!
Learn More