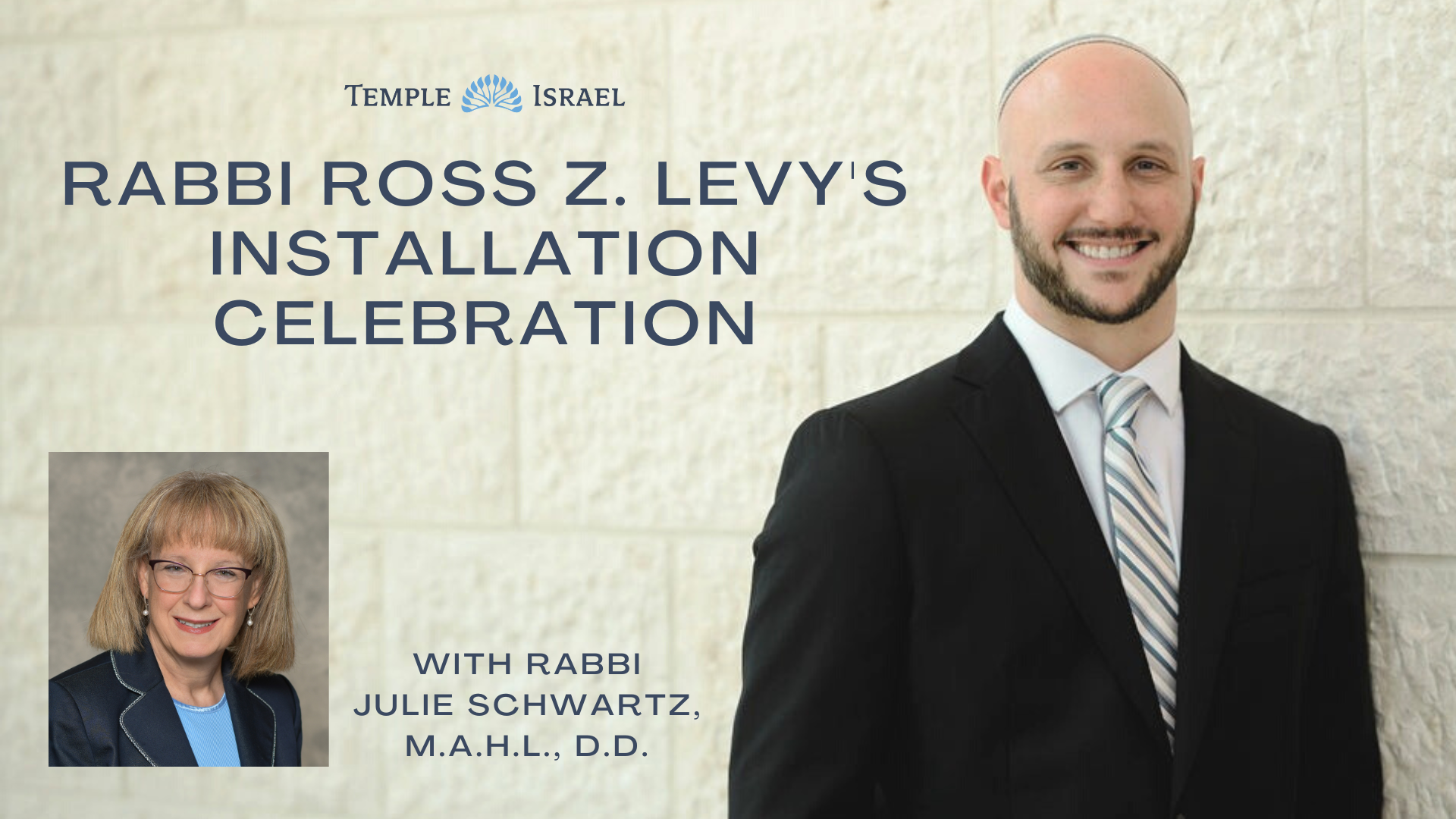 By Melinda Lejman
Temple Israel is excited to welcome Rabbi Ross Z. Levy as its newest Assistant Rabbi with a community Shabbat service and Selichot celebration during the weekend of September 8, 2023.
Born and raised in Nashville, TN, Rabbi Levy began his Jewish journey as a sixth-generation congregant at The Temple Congregation Ohabai Sholom, Temple Israel's sister synagogue 200 miles to Memphis' east.
A graduate of The George Washington University in Washington, D.C., Rabbi Levy received a degree in Religion and immediately enrolled in Hebrew Union College-Jewish Institute of Religion. He spent the first of his five-year rabbinical school journey in Jerusalem where he connected with Rabbi Jeff Dreifus, who joined Temple Israel as Assistant Rabbi in 2021.
This pivotal experience in Israel was followed by four years of study and practice at the HUC's Cincinnati campus where Rabbi Levy was immersed in the history of the Reform Movement. He served as a student rabbi and interned in cities including Cincinnati, Ohio, Lafayette, Louisiana, Nashville, Tennessee, and Boulder, Colorado. He also spent a summer on staff at URJ Henry S. Jacobs Camp, which welcomes dozens of Temple Israel families to Utica, Mississippi each year.
Before joining Temple Israel, Rabbi Levy served the Los Angeles community at Congregation Kol Ami, a synagogue serving a primarily LGBTQ+ community. "I experienced what it means to open your arms wide and use Jewish tradition as a tool to create a place of home and acceptance," said Rabbi Levy. "I was excited to witness and foster a new, innovative definition of what a 'synagogue' means for people no matter their Jewish background. "
Rabbi Ross will be involved in many aspects of Temple Israel's expansive programming and engagement opportunities, with a specific focus on young families and ConnecTI, their group for folks in their 20s and 30s.
"I am excited to get involved in education at Temple Israel, specifically adult education classes, Torah study, and finding opportunities to connect people with the rich tradition of the Jewish people," says Rabbi Levy, who has a passion for music and exploring different modes of worship. He will be partnering with Music & Cantorial Director Emily Groff Heilborn for an alternative "Awakening" service on the High Holidays, bringing a more informal style focused on communal singing and participation.
Rabbi Levy's formal installation will be held in the Greenstein Sanctuary on Friday, September 8, 2023, when he will be installed by his teacher and mentor from the Hebrew Union College, Rabbi Julie S. Schwartz, M.A.H.L., D.D. The entire community is invited to join Temple Israel for a preneg at 5 PM and a Shabbat service at 6 PM followed by a special Memphis-themed dinner. The service will also be streamed on Facebook and on Temple Israel's website, timemphis.org/watch-live. Tickets for dinner can be purchased at timemphis.org/calendar.
On Saturday, September 9, 2023, Temple Israel will host a "Spirited" Selichot Celebration featuring a bourbon-tasting, cocktail hour, and hors d'oeuvres under the Atrium Glass. The bourbon tasting will begin at 7:30 PM and will then shift from celebration to introspection with a reflective evening Havdalah followed by a Selichot service at 8:30 PM, bringing the community into the High Holidays.
Complimentary childcare for children 18 months to 7 years of age is available on Friday evening for the entire night's celebrations. For more information about the Installation and Selichot services, please visit timemphis.org/hhd or call Temple Israel at 901.761.3130.