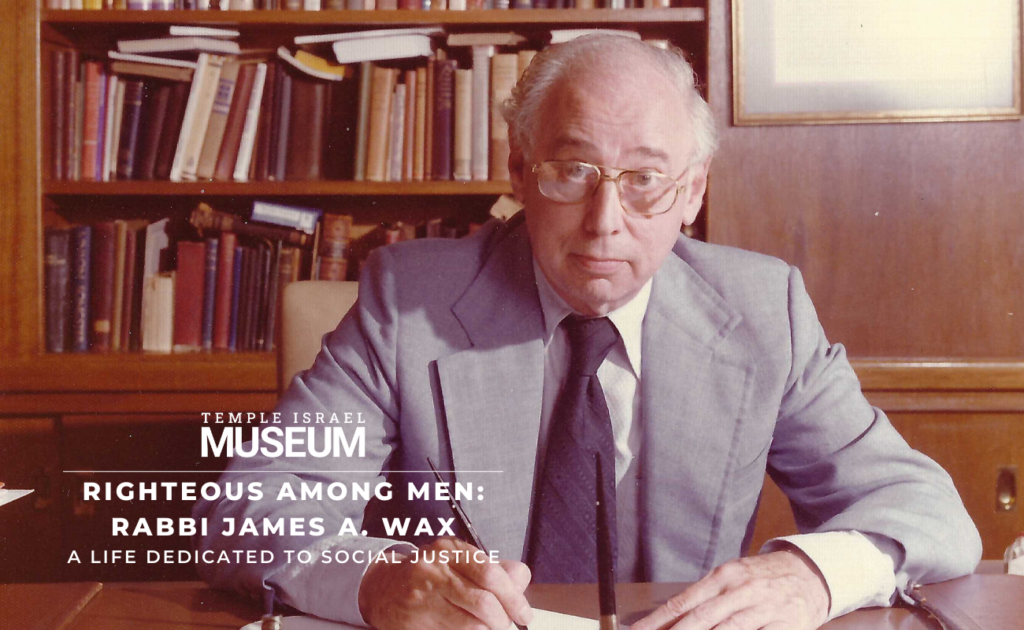 Righteous Among Men: Rabbi James A. Wax, A Life Dedicated to Social Justice
Open and free to the community!
Hours of Operation:
Tuesday-Thursday: By appointment only – please call the front desk at 901.761.3130.
Sunday: 10 AM – 12 PM
First Friday of the Month: 5-6 PM
Museum Hours
Tuesday-Thursday 10 AM-2 PM, Sundays 10 AM-12 PM, and the first Friday of the month before Shabbat services from 5-6 PM.
Educational & Group Tours
We would love to have your group tour the exhibit. Tell us about yourself on the form below, and someone will reach out to you.
---
---
On the Podcast
Rabbi Jeff Dreifus speaks with Susan Adler Thorp about the exhibit and Rabbi Wax's incredible legacy in this episode of Temple Israel's Torah to the People podcast.
---
The Temple Israel Museum is pleased to announce the creation of a multi-dimensional exhibit that will feature the religious, spiritual, and social conscience of Rabbi James A. Wax, who led Temple Israel in Memphis from 1954 until 1978.
Righteous Among Men: Rabbi James A. Wax, A Life Dedicated to Social Justice will open on Sunday, September 18, 2022, and will showcase Rabbi Wax's commitment to Judaism and social justice – a commitment that defined his life, paving the way for his pivotal role in the 1968 Memphis Sanitation Workers' Strike and his visionary leadership as an advocate for those with mental illness.
James Aaron Wax was the son of immigrants and the only Jewish family in the small town of Herculaneum, Missouri. What turned his youthful ambition to be governor to the religious pulpit? And what lured him to Memphis in 1946, where he would lead the largest Reform Jewish congregation in the South? It was here that he would nurture his deep and abiding love for Judaism and his life-defining commitment to social justice at a time when racial equality and advocacy for those with mental illness both faced formidable opposition.
This exhibit is important not only to our Jewish community, but also to the entire faith community, civic organizations, and school groups. The conversations created from this exhibit will be indispensable hands-on learning tools and we will make it widely available to all who need it. It is our hope that by reflecting on the past we can inspire positive social change as Rabbi Wax modeled throughout his life.
---
Thank you to our generous sponsors.
Presenting Sponsors
Herbert Shainberg Foundation

James A. Wax Family: Jonathan I. Wax,
James A. Wax Jr., and James R. Wax

Upstanders
Carol & Bert Barnett
Anonymous Friend of the Museum
Elvis & Robert T. Goldsmith Fund
Ann & Mason Hawkins

Advocates
Family of Joy & Leo Bearman
Doris & Hubert Kiersky Charitable Remainder Trust
Robin & Billy Orgel
Leigh & Craig Royal
Diane Rudner
Susan Adler Thorp
Supporters
Rose Merry Brown
Congressman Steven I. Cohen
Sheril & Rabbi Micah Greenstein
Natalie & Jimmy Jalenak
Elaine & Robert Kaufman
Barbara B. Lapides
Myrna & Joe Levy
May Lynn Mansbach
Memphis Jewish Federation
Metropolitan Inter-Faith Association
Monogram Foods
NAACP
National Civil Rights Museum
Judy & Nick Ringel
Diane Sachs & Robert Vidulich
Hedda Adler Schwartz
Edward J. Wise


In-kind Sponsors
The Jacob Rader Marcus Center of the American Jewish Archives
Lisa Buser Photography
Dixon Gallery and Gardens
Herculaneum Historical Society, Herculaneum, Missouri
Alan Karchmer Architectural Photographer
Memphis Room, Memphis Public Library
Running Pony
Spark Printing
Temple Israel Archives
The James A. Wax Family
---
There is always something going on at Temple Israel!
Learn More