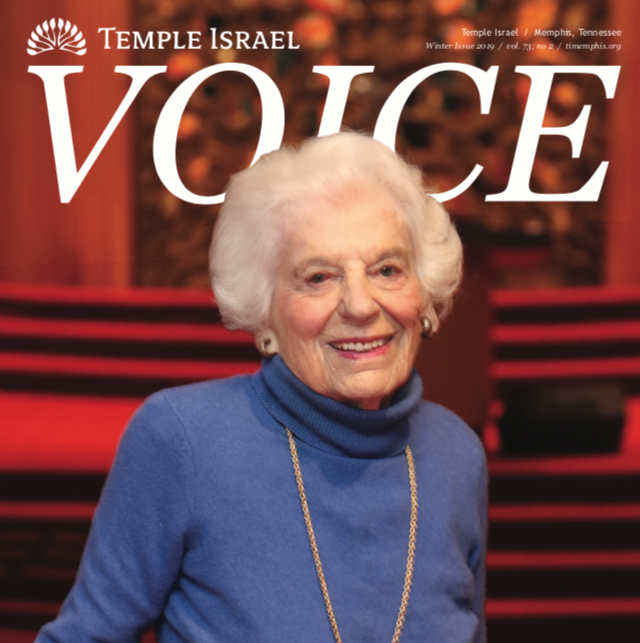 A Role Model for Everyone
by Leanne Kleinmann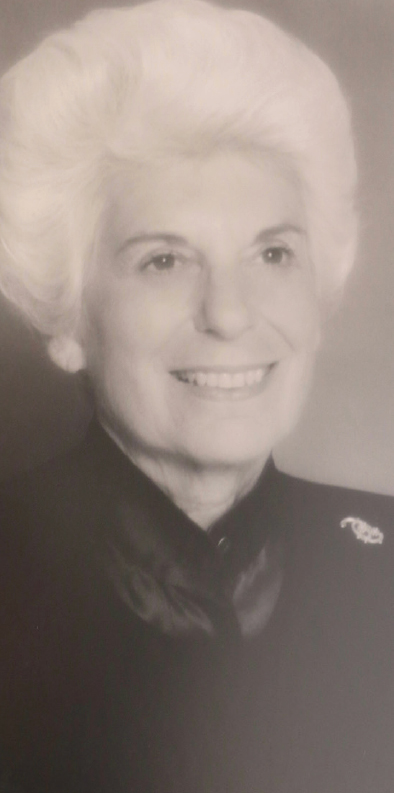 Mildred Schwartz could see that the young woman planning her 100th birthday cel-ebration at Ridgeway Country Club – it would be called Mildred Schwartz Day – didn't real-ize what she was getting into.
"She told me, 'Mildred, we want to invite all of your friends.' I said, 'ALL of my friends? You mean, just my golf friends?' And she said, 'No, all of your friends. How many do you think that will be?'"
No one who knows Mildred Schwartz will be surprised to hear that 200 people came to the party, one of many celebrations marking a signifi-cant milestone for a unique and amazing woman.
Why does she think she has so many friends, even this late in her life? "I'm a people person… I love to be with people," said Mildred. "And I hope people enjoy being with me."
The people of Temple Israel have enjoyed being with Mildred since the early part of the 20th century, when she moved with her moth-er and brother to Memphis from a tiny town in Louisiana. Her mother enrolled the siblings in religious school at Temple Israel, then located at the corner of Poplar and Montgomery near downtown Memphis.
"I'd never seen so many Jewish kids in my life," Mildred said. "So it was nice, and I felt right at home."
Later, her brother introduced Mildred, a graduate of Central High School, to her husband, Max.
"He was my brother's best friend," she said, "and I hated him." What? Turns out the two boys didn't have much use for a little sister always tagging along to the movies, so they wouldn't let her walk with them. Until one day, Mildred and Max found themselves alone on the way to the movies. "From then on, well, you know," she said with a smile.
After they married, Max was a manufac-turer's representative for a women's clothing company, a "traveling schmatta salesman," said Barbara Mansberg, who knew Mildred as her own mother's friend. "In the 1940s, when Max was drafted into World War II, Mildred took his route! She went all over the place, and did just as well."
Mildred said she didn't have any qualms about picking up the dress sales route, which covered Mississippi, Louisiana, and part of Arkansas. "I knew most of the customers as well as he did," she said, because she had always traveled with him, driving the car.
While Max served in the war, Mildred said she "schlepped the samples into the store and schlepped them back out of the store; you put 30 dresses in a bag and had a rolling rack to hang them up on. I changed tires…I was young and dumb."
She was also the only woman in a salesforce of 35 men.
That barrier-breaking experience would be useful later, when Mildred became the first female President of the Temple Israel Board of Trustees, from 1986 to 1988.
She plays down its significance today; when asked how she came to be President, at first she said, "Beats me, kid!"
When Mildred was invited to be on the Temple Board, she said she never planned to be Temple President, even though her leadership skills and volunteer capacity were well known. Mildred has been president of the Volunteer Center, the Memphis Volunteer Placement Program, the Memphis Area Women's Golf Association, the Plough Towers Board of Directors, and the Mem-phis Section of the National Council of Jewish Women. She won a Women of Achievement Award in 2005 for Steadfastness, for a lifetime of achievement.
"As time went on, I gradually went up from Treasurer (of the Temple Board) to Vice Presi-dent to President," she said. "I think everyone was very surprised, including me."
She calls it one of the easiest leadership positions she'd had, "because I had a wonder-ful board and great committees. I had great people who were willing to work." She valued getting to know the rabbis better – the Senior Rabbi at the time was Harry K. Danziger. "I felt very honored and enjoyed every minute of it."
During Mildred's presidency, Temple Isra-el launched its preschool, and she remains proud of the now-nationally accredited Bar-bara K. Lipman Early Learning Center. "It's a wonderful, wonderful school," she said.
Since Mildred was President, four other women have held the prestigious office: Judy Royal (1996-1998), Sherry Samuels (2000-2002), Nancy Robinson (2010-2012), and Paula Jacobson (2012-2014).
Does she have any advice for girls and young women at Temple who might want to follow in her footsteps?
"The thing I'm really concerned about is involvement in the community," she said. "I think too many young women today are me-oriented and aren't participating in the way that they could. They have so much to give, and need to be involved. There are some who are, but not enough."
"Among the best ways to judge leaders is to follow what they do when they're not in the spotlight," said Senior Rabbi Micah Green-stein. After paving the way for Jewish women as the first female President of one of Ameri-ca's largest synagogues, and after raising chil-dren Viki and Jerry of blessed memory…what does Mildred do around Temple?
"She helps shape the lives of children as they prepare for their bar and bat mitzvah ceremonies," continued Rabbi Greenstein. "Hundreds of teens in our congregation were mentored by Mildred Schwartz. She is every-one's role model, including this rabbi's."
Mildred also volunteers in the Temple Ar-chives, and she doesn't miss a Friday Shabbat service.
"I've always felt like Temple was a second home," she said. "I feel when I walk into the sanctuary that there's a peace that settles over me…a quiet. And I look forward to it."
Maybe it's that peace and faith that has brought her to such a milestone birthday, too.
While Mildred admits she never expected to live this long – as she said, "My parents died so young," and she's a cancer survivor herself – she makes a point of thanking God for every day, making every minute count.
"I know I don't have much longer here," she said. "What do I want to do? What can I leave that would be meaningful?"
But she's not a worrier. "No, I don't worry about things I don't have any control over."
She's also clearly still relishing her life: she recently bought a new car. She stays in touch with her family – daughter Viki lives in Memphis, and she's close to grandchildren and friends both in town and across the country. "My nephew says I'm the only grand-mother he knows who knows how to text," she said proudly.
"Thank you for reminding us through this amazing woman what it means to be God's helping hands in this world."

-RABBI MICAH GREENSTEIN
Her advice for living to be 100?
"I try to give back as much as I can, and I always try to be involved and stay busy."
"Mildred is the model of what it means to be a mitzvah woman and live a life of service," said Rabbi Greenstein. "She demonstrates day after day what it means to love and to serve.
"Thank you, God, for the gift of Mildred," continued Rabbi Greenstein. "Thank you for reminding us through this amazing woman what it means to be God's helping hands in this world."