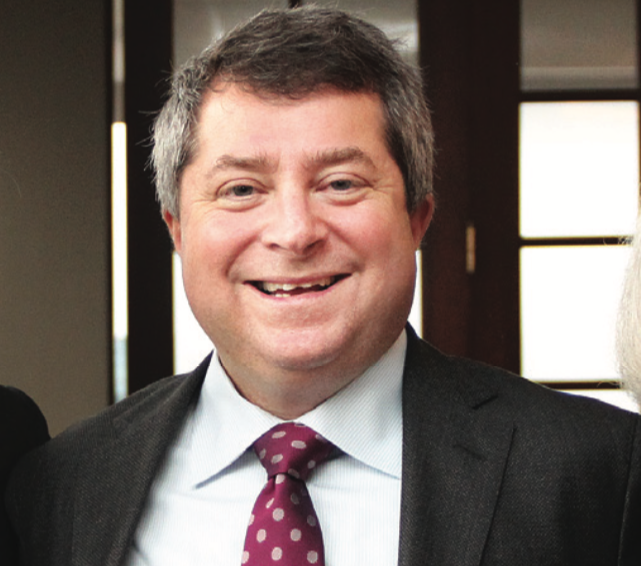 by Leanne Kleinmann
A careful reader doesn't have to look far to see the influence of Memphis – and Temple Israel – embedded in the work and writing of Time's CEO and Editor-in-Chief Edward Felsenthal.
His first Editor's Letter in October of 2017 opens with a reference to a framed letter he keeps above his desk, written by his grandfather, Eric Cornell, to the editors of Time, pointing out a grammatical error. Cornell, who fled Nazi Germany in the 1930s and eventually made his way to Memphis, learned about America through the pages of the nation's dominant newsmagazine; this particular letter, written in rhyme, pointed out the misuse of "who" and "whom" on the cover. (The Time editors wrote back: Maybe Cornell had a point, but "traditions change.")
Decades later, Cornell's grandson is the 18th top editor of Time, still a dominant news presence, though the metrics used to measure that excellence have changed dramatically. Time's print magazine has 2 million subscribers and remains the largest U.S. print title in news, but its digital footprint is even bigger, with more than 100 million monthly video streams across platforms and more than 50 million social media followers. Under Felsenthal's leadership, Time established a 24/7 newsroom and video operation and won several important awards, including an Emmy in 2017 and a National Magazine Award in 2018.
Edward Felsenthal will be the featured speaker for the Leadership Shabbat service during the Annual Congregational Celebration, to be held this year on Friday, April 26th. Not surprisingly, perhaps, the topic of Felsenthal's talk will be Toldot (Generations).
"Some of my happiest memories are sitting with my grandparents on Friday nights," he said, "looking up at the Eternal Light and thinking about so many connections across generations."
Edward's grandfather, Ed Felsenthal, was President from 1954 to 1957, and his legacy goes back even further: great-grandfather Jacob Felsenthal was President from 1937 to 1939.
"I'm old enough to remember my grandmother, Pearl Felsenthal, as the spouse of a former president of the congregation, taking up a shovel for the groundbreaking of the 'new' Temple on Massey Road!"
"My other grandmother, Helga Cornell, was a warm and regular presence on Friday nights, and worked in the Temple Archives," Edward said. Felsenthal's parents are Gloria and Eddie Felsenthal.
Edward Felsenthal attended Memphis University School (MUS), where he was editor of the school paper, The Owl's Hoot, graduating in 1984. He and his brothers were active in the life of Temple Israel; brother Marty graduated from MUS in 1987, and David graduated from MUS in 1988.
"I was the last Bar Mitzvah (in 1979) to use what Rabbi D." – then-Senior Rabbi Harry K. Danziger – "called the 'old' prayer book. I'm partial to traditions," said Edward. "He and his wife Jeanne and (Senior Rabbi) Micah are wonderful friends, as are so many others at Temple who have been and remain part of my life."
Felsenthal has an undergraduate degree from Princeton, as well as a J.D. from Harvard Law School and a master's in law and diplomacy from the Fletcher School at Tufts.
Despite his legal training, Felsenthal was attracted to the news business and began his career as a reporter for the Wall Street Journal. (His first front-page byline was about Tennessee reopening the investigation into the cause of Elvis's death.) At the Journal, he covered the Supreme Court, and, as Deputy Managing Editor, founded the Personal Journal section, where he led coverage that won two Pulitzer Prizes.
In 2008, Felsenthal became the founding executive editor of The Daily Beast, a role in which he built and managed a digital newsroom that grew into a nationally-known brand. He joined Time in 2013 as editor of Time digital; in 2018 he added the title of CEO to his job as Editor-in-Chief.
"I feel like much of my Jewish life since I moved from Memphis has been spent looking for a community as supportive, and a synagogue as warm and uplifting and musical, as Temple Israel."
Felsenthal and his wife Ali live in New Jersey with their three children, Sophie (10), Louise (8), and Eric (2). The family cat's name? Elvis, of course.
As Editor-in-Chief, Felsenthal is called upon to reflect – and lead – the national conversation, and the foundation laid at Temple Israel guided him after the tragic massacre of 11 people at the Tree of Life Synagogue in Pittsburgh.
In a powerful Editor's Letter in November of 2018, he reflected on the cover of the magazine that week: a red, white, and blue rendering of the tree of life, "a mystical Jewish image," by artist Edel Rodriguez, all the stars having fallen to the ground save one, symbolizing hope. Then he went on:
"An unforgettable memory from my own childhood is Friday nights with my grandparents – German immigrants who cherished their American identity – as a rabbi recited the prayer 'Grant Us Peace,' a loose translation of the Hebrew 'Shalom Rav,' and an organist quietly tapped the melody to 'My Country 'Tis of Thee.'"
It's easy to imagine why Felsenthal is looking forward to coming home to Memphis to speak at Temple in April.
"I feel like much of my Jewish life since I moved from Memphis has been spent looking for a community as supportive, and a synagogue as warm and uplifting and musical, as Temple Israel," he said. "I'm not sure there is one! We are lucky to have it, and I am excited to come help celebrate its extraordinary 165 years."