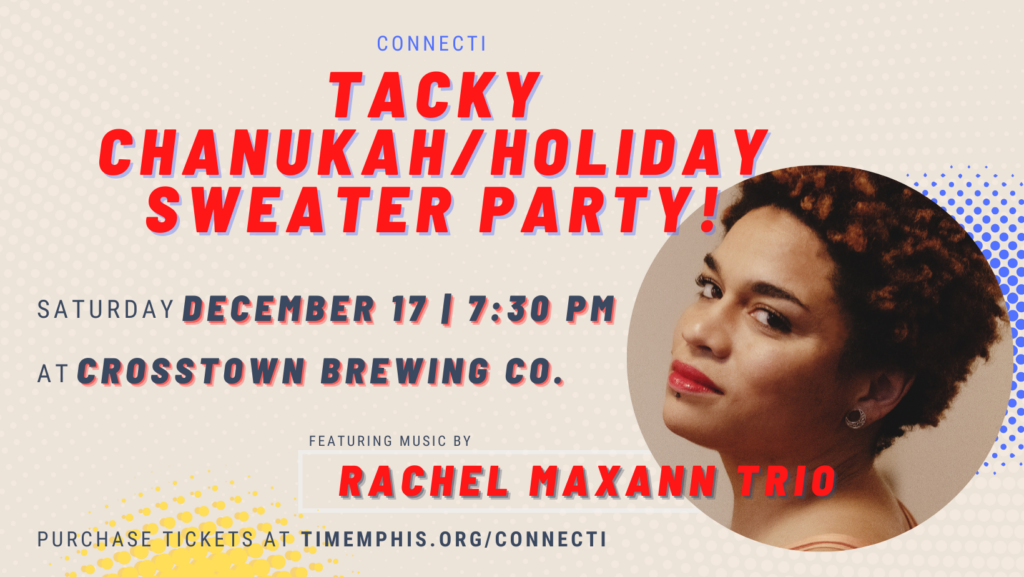 Purchase tickets to the 2023 ConnecTI Tacky Chanukah/Holiday Sweater Party on December 17 at 7:30 PM at Crosstown Brewing Co!
We have the entire space at Crosstown Brewing Co. to ourselves, with our musical guest, Rachel Maxann, performing throughout the night.
Updates about the night can be found on the Facebook event page. We cannot wait to see you there.
Please contact Emma Figarsky if you have any questions!
---
ConnecTI
ConnecTI provides a holistic Jewish experience through socially, spiritually, and professionally fulfilling opportunities for Memphians in their 20s and 30s with a mission to connect to each other, to our Jewish community, and to Memphis.
Are you new to Memphis and need resources to help you navigate the ins and outs of the city?
Are you interested in experiencing Memphis with a fun group of people?
Are you looking to make a difference in the city?
If you wish to get involved or want help navigating Jewish life in Memphis and at Temple Israel, contact Rabbi Jeff Dreifus
Join us on our Facebook page for news and events!
---