The Temple Israel Community is vast and vibrant. Wherever your passions align, there is a space for you! Contact Faith Ruch, Director of Congregational Engagement, if you have any questions about how to get involved! The easiest way to stay up-to-date on all of the upcoming events at Temple is our weekly e-news; sign up here!
Community Groups
LGBTQ Group at Temple Israel
Sign up now! If you are interested in joining a new LGBTQ group at Temple Israel, fill out this confidential form to receive updates! This group is designed for and by members of our LGBTQ community. By signing up, you will receive updates on the group, events, and other exciting information. All contact information shared here will remain confidential to Temple Israel staff and group leaders. If you have any questions about anonymity or about the group in general, please email Faith Ruch, Director of Congregational Engagement.
Tandoori Tribe
Thank you for your interest in joining the Tandoori Tribe! This group of foodies gets together to enjoy Indian food for lunch once a month! ​​​​​​​We will send you updates on the next lunch date. If you have any questions, please email Faith Ruch, Director of Congregational Engagement. Sign up here to get notifications about the next lunch bunch!
Not Your Mama's Mah-jongg
This group brings together people in their 20s and 30s who have always wanted to learn mah-jongg or are already a pro! You will find upcoming events, tips, and updates for the group on this private Facebook page.
Team Read
On Tuesdays and Thursdays from 10:50 – 11:50 AM, Team Read volunteers work with 2nd-grade students in Shelby County Schools to help them learn to sight-read basic vocabulary words proven to improve overall reading proficiency and curricular outcomes. If you are interested in volunteering, contact, Faith Ruch at faithr@timemphis.org.
Temple Israel Team Glean
Throughout the summers since 2020, Temple Israel joined a nationwide effort to end hunger and reduce food waste through gleaning — the practice of redistributing quality produce that otherwise would be discarded. Every Thursday afternoon, Temple volunteers, ages 21+, gathered at the Agricenter Farmer's Market to collect fruit and vegetables that were so generously donated by the vendors there and then delivered the produce to Plough Towers. While at Plough Towers, Temple volunteers put the produce into bags to make it easy for the residents to take what they wanted.
Questions? Please contact Jan Reisman at janr@timemphis.org or Rebecca Fox at rebeccaf@timemphis.org.
Temple's Team Glean and Team Read programs are made possible by the generosity and vision of Judy and Nick Ringel, their children, and grandchildren in memory of Ernestine Greenberger.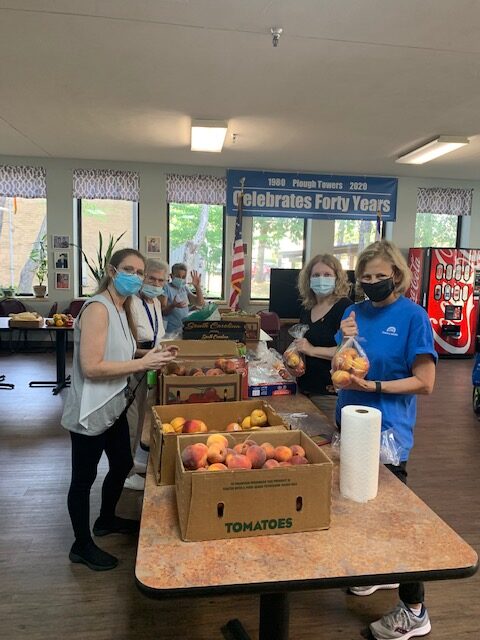 ---
Support Groups
Temple Cares
Temple Cares is looking for volunteers!
Temple Cares Meal Committee desperately needs volunteers. If you enjoy cooking or would like to provide a bought meal we need YOU! We can even pick it up and deliver it for you! We provide meals for Temple Israel families who are in need. Please reach out to Sheryl Gorden if you'd like to be on her committee. This is such a great way to give back to your Temple Israel community.
Temple Cares will be resuming transportation for fully vaccinated and boosted members to doctor's appointments and we need your help! If you need a ride or would like to be a Temple Cares volunteer please contact Liz Atterman at 901.417.0399 or email at lizatterman@gmail.com.
If you need assistance, meals, or know someone who does, please contact Rebecca Fox at rebeccaf@timemphis.org or 901.937.2778.
Bereavement Calls
Contact Debbie Jackson at 901.604.1511 to volunteer.
Meal Committee
Prepare/purchase and deliver a meal to our members who might need them.
Email Sheryl Gorden, sheryl.gorden@gmail.com, to sign up.
For other Temple Cares volunteer opportunities contact Debbie Jackson at 901.604.1511 or email at djack327@bellsouth.net.
If you need assistance, meals, or know of someone who does, please contact Rebecca Fox at rebeccaf@timemphis.org or 901.937.2778.
---
Caregiver Café (virtual)
This group meets on the 2nd Sunday of every month at 10 AM on Zoom, hosted by Sarah Thomson. It provides a safe space for caregivers to recharge and share their experiences with others in a supportive environment.
This is open to the entire Jewish community–we welcome all! The Zoom link can be found on our Temple Israel calendar. Email Sarah Thomson with questions. If you would like to know more about the class, you can read Sarah's blog post!
---
Grief & Loss Support Group (virtual)
If you are experiencing grief from any type of loss this is a supportive space for you. The Grief & Loss Support Group is held every other Tuesday on Zoom and is facilitated by Betsy Mandel-Carley.
This group meets on an irregular schedule, please contact Debbie Jackson, Temple Cares Coordinator, with any questions at djack327@bellsouth.net.
Betsy Mandel-Carley recently retired after 50 plus years as a psychotherapist. After graduate work at The University of Chicago, she became licensed as both a Licensed Clinical Social Worker and as a Licensed Marriage and Family Therapist. Her practice consisted of working with individuals and couples, helping them understand patterns in their lives, issues with connection, and learning new ways of coping with loss and change. This group is not limited to Temple members.
---
Career Support Group
The Career Support Group meets at Temple Israel in the Conference Room and on Zoom at 9:30 AM on the first and third Sunday of the month and features guest speakers offering tips and advice for professionals in the job market.
Questions? Call Rob Mann at 901.491.3781 or Ron Brooks at 901.299.6822.