Thank you for celebrating with us!
Don't forget to decorate your postcard invitation!
Decorate the postcard invitation with a heartfelt note, glue on photos you have with Rabbi Greenstein, or both – make it your own! Be sure to sign your name.
Mail it back to Temple Israel (please don't fold) or drop it off at the front desk of the Welcome Center by November 1st.
If you have already discarded your invitation, you can email your note to Anna Bearman.

1376 East Massey, Memphis, TN 38120
Call 901.761.3130 if you have any questions.
Rabbi Micah D. Greenstein
---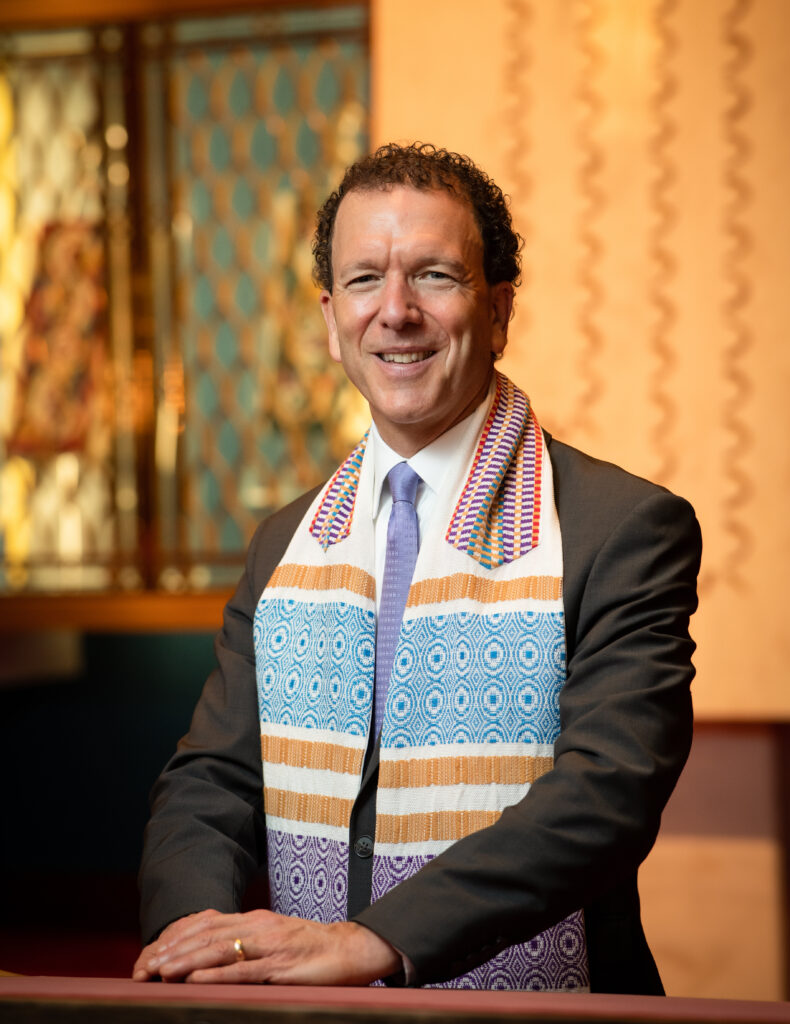 Rabbi Greenstein began his tenure at Temple Israel-Memphis in 1991 after completing undergraduate and graduate degrees at Cornell University, Harvard University, and the Hebrew Union College-Jewish Institute of Religion. He has served Temple as its Assistant Rabbi (1991-1994), Associate Rabbi (1994-1999), Co-Rabbi (1999-2000), and Senior Rabbi since 2000. Cumulatively, Rabbi Greenstein has officiated over 1,800 lifecycle ceremonies and reimagined music, worship, and spirituality at Temple through the power of contemporary Jewish music and new prayer initiatives.
Communally, Rabbi Greenstein led the Memphis Ministers Association as its President twice in the 1990s, was the first rabbi to preach at the Washington National Cathedral on a Major State Day (2005), and was named one of America's Top 50 Rabbis by Newsweek/Daily Beast (2014-2017). Closer to home, he was chosen by Memphis Magazine as the first "Memphian of the Year" in 2013 and served as a faculty member at Memphis Theological Seminary for over 20 years, teaching hundreds of future ministers serving churches throughout the Mid-South.
A passionate Reform Zionist, Rabbi Greenstein chaired the Israel Committee of the Central Conference of American Rabbis and is currently a member of the global delegation to the World Zionist Congress. He has shared his passion with over 500 adult congregants, rabbis, city leaders, and Jewish youth on 21 trips to Israel since 1991. Rabbi Greenstein is most proud of the role Temple Israel has played in effectuating positive change within the land of Israel as a revered partner in the Israel Movement for Reform Judaism and the Israel Religious Action Center. Just last month, Rabbi Greenstein dedicated the first non-Orthodox synagogue in the City of Shoham at which Israeli leaders noted how this milestone achievement – following a seven-year battle with Orthodoxy – would never have materialized were it not for the leadership and commitment of Rabbi Greenstein and Temple Israel.
Rabbi Greenstein has continued the social justice tradition of his rabbinic predecessors representing Temple Israel on a myriad of community boards and advisory councils. Notably, he served in the leadership of the National Civil Rights Museum since its inception and was selected to emcee the MLK50 commemoration for Dr. Martin Luther King, Jr. in 2018. In recognition of his noted work in interracial reconciliation and interfaith initiatives, Rabbi Greenstein was elected to the National Board of Directors of the NAACP. Greenstein's citywide creative partnerships include "Tear Down The Walls" with Rick Recht, and impacting Memphis' largest annual interfaith gathering speaking annually at the Muslim community of Memphis' Interfaith Dinner.

He has received incredible honors for his advocacy of human rights – Memphis City Council named Rabbi Greenstein "Humanitarian of the Year" in 2011, received Shelby County's 2016 Dr. Martin Luther King, Jr. "Be The Dream" Legacy Award, and Planned Parenthood presented him with its highest clergy award in 2015.
Greenstein has also represented the faith community in advocating for LGBTQ+ non-discrimination ordinances and collaborated with Memphian Alan Lightman in the establishment and growth of Harpswell, traveling to Cambodia five times to lead interfaith symposia for a pioneering educational initiative dedicated to empowering a new generation of women leaders throughout Southeast Asia.
Rabbi Greenstein remains most convicted about Temple Israel – past, present, and future – emphasizing the humbling nature of serving such a historic and consequential Jewish congregation for the Deep South and the National Reform Movement. Recent initiatives such as TI-Crosstown, and the ongoing recruitment of talented clergy to Memphis, have been part of the calculus to help sustain Temple Israel's vibrancy as Tennessee's largest synagogue.
When asked about the past 30 years at Temple Israel, Rabbi Greenstein stressed the entire team alongside him since 1991, including Rabbi Emeritus Harry Danziger, Cantor Emeritus John Kaplan, Rabbis Valerie Cohen, Tara Feldman, Meir Feldman, Dan Rabishaw, Adam Grossman, Katie Bauman, Feivel Strauss, Cantorial Soloist Abbie Strauss, and the current "Fab Four" as Rabbi Greenstein refers to them: Rabbi Bess Wohlner, Rabbi Jeremy Simons, Rabbi Jeff Dreifus, and Cantorial Soloist Happie Hoffman. He also noted two wonderful Executive Directors in recent decades, Jeff Manis (z"l) and Stacy Canales, the entire Temple Israel staff, and his partnership with the Temple Board and 16 Temple Israel Presidents, including current President Laurie Meskin, who helped conceive this night. Wherever Rabbi Greenstein speaks, he always emphasizes that his greatest blessings are his wife Sheril, and children Cara (Alex), Jake, and Julia.